If you're in the market for an aquarium heater, then there's no doubt that you've come across the Fluval E Series heaters and E200 model in particular. Fluval is one of the popular leaders when it comes to quality aquatic products, and its models are known for being innovative, reliable, and having a superior design.
We were very excited when creating this Fluval E Series heater review because they are one of the most expensive models in the market. We wanted to know whether the E200 model lived up to the expectations, so we considered factors such as its overall performance, build quality, sensors, etc. To give you a complete picture of this water heater, we also compared it to other heaters in the series, including the E100. Check out our comprehensive guide below!
Specifications
Aquarium capacity
Up to 65 gal.
Temperature range
68 to 93℉
Dimensions
1.8 x 3.3 x 17 in
Review
Finding a great heater for your aquarium is increasingly becoming a difficult task. Despite there being multiple models to choose from, some of them are simply overhyped and don't live up to their expectations; others have limited features, while there are some that are downright disappointing. After extensive research, we came across the Fluval E series heaters, manufactured in Europe but mainly popular for their superior construction and components.
These heaters are also known for an impressive reflective technology that blends right in with your aquarium, allowing it to maintain an aesthetically pleasing natural look. While this series comes in a variety of sizes that can fit most fish tanks, we narrowed down our research to focus on the Fluval E200 features. In this guide, you'll find out everything you need to know about this model, including its wattage & aquarium capacity, build quality, temperature control & consistency, etc. Let's dive right into the ultimate Fluval E Series review!
Overall Performance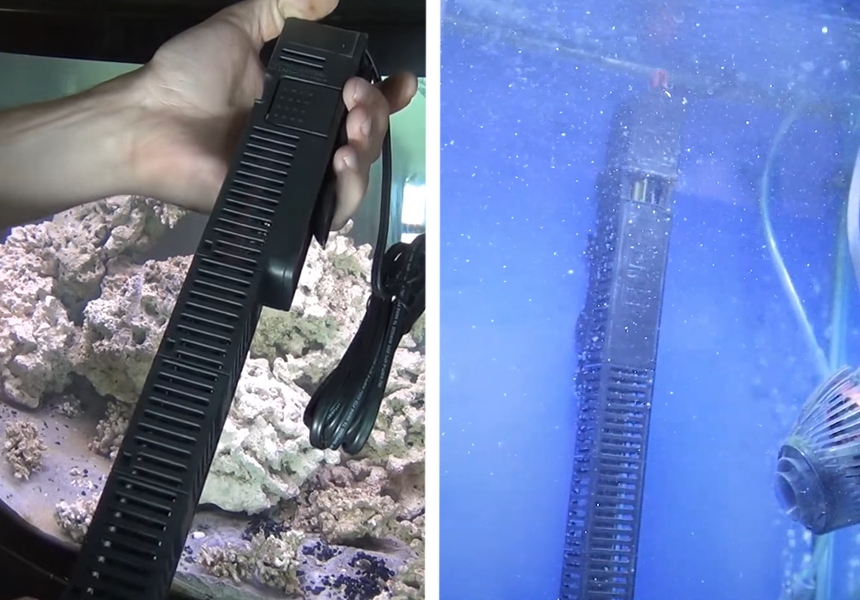 According to the BBC Trusted Source Feedback
- ICT systems and their usage - GCSE ICT Revision - BBC Bitesize Learn about ICT systems and usage for ICT GCSE and find out the integration of ICT devices and information systems. www.bbc.co.uk , the process of controlling the temperature levels in an aquarium is some sort of a vicious cycle. First, you set the correct parameters (minimum and maximum temperatures)  based on the type of fish that you own. The heater checks the aquarium temperatures and compares them to the programmed parameters. If the aquarium is too hot, the heater goes off so that the temperatures can fall. The sensors then keep track of the temperatures, and if they're too low, the heater is turned off. This process repeats itself to help your aquatic animals thrive.
After using the Fluval E200 heater, we have to admit that it's one of the most technologically advanced models that we have come across. We placed this heater in an optimum location where there was a lot of water movement to ensure there was an even distribution of heat throughout the aquarium.
We used 4 main criteria to evaluate the overall performance;
Ease of installation: don't you just hate it when you spend hours trying to go through manuals & youtube videos just to put the equipment together? So do we! And we have to admit that we were impressed at how easy it was to install the Fluval E200 heater. It came ready to go, and I didn't have to assemble anything.
Consistency: we wanted to see how well the heater would sustain steady temperature levels in the aquarium, so we watched keenly for any fluctuations. We found out that this heater was very consistent.
Calibration: we were interested in how easy it would be to program the correct water temperatures, and this fish heater made the process seamless.
Main features: of course, our review wouldn't be complete without going through the top features of the Fluval E200! Our verdict is that this model is an impressive technological innovation.
Overall, this fish heater is a great buy, and despite being highly priced, it comes with amazing features that every fish over could use.
Wattage and Aquarium Capacity
As a general rule of the thumb, when choosing the heater wattage, you should always use around 2.5 -5 watts for every gallon of water in the aquarium. You should also consider the amount of temperature increase that your fish need. For instance, if the desired temperature rise is too high, you may have to buy 2 heaters.
The Fluval E200 has a wattage of 200 and can be used in aquariums of up to 65 gallons.
Temperature Control and Consistency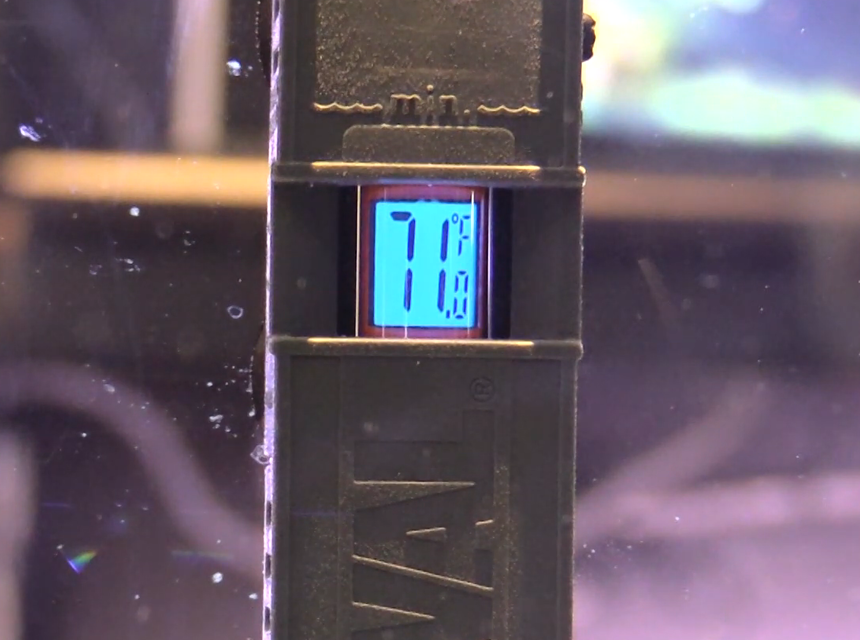 According to Climate Central Trusted Source In Hot Water: Warming Waters are Stressing Fish and the Fishing Industry | Climate Central Climate Central bridges the scientific community and the public, providing clear information to help people make sound decisions about the climate. www.climatecentral.org , fish are extremely sensitive to temperature changes. Some species can only survive in certain temperature ranges, which is why you need to make sure that the heater you choose offers consistency. When choosing an aquarium heater, you should pay special attention to temperature control and consistency because this makes all the difference between your aquatic animals thriving or dying.
Fluval E200 has temperature settings that are easy to read, and we had an easy time maintaining the correct temperatures. The front of the heater came with a large LCD display as well as a red lever that you can use to set temperatures by pressing it right or left. The LCD display shows the current temperatures to keep you updated, and when you press the lever, it highlights the programmed temperature.
The display serves various functions; for starters, it eliminates the need to buy a second thermometer and also makes it easy to keep tabs on the temperature safety at a glance. This is further enhanced by the color changes of the LCD display based on current temperatures.
Build Quality
While there are affordable models of aquarium water heaters, the best models are usually a bit pricey. They are, however, worth every dime you spend on them because they can last you for a long time. The build quality of the aquarium heater is also critical to the safety of your fish. For instance, if a water heater starts releasing toxic compounds into the water, it could create a dead zone and kill all your fish.
The Fluval E200 is highly durable, and it uses glass to encase the heating element, so it doesn't release toxins in the water. While this glass is breakable, this heater also comes with a heater guard that gives it an added layer of protection.
Installation
If you're like most fish tank owners, then you know how frustrating installations can be. This is especially true when the manufacturer doesn't include a manual, and you have to scout the internet for videos and blogs. Well, with the Fluval E200, the installation is seamless. You don't have to assemble anything. You simply stick the hater to the back wall of your aquarium and then make height adjustments by sliding its body along the mounting bracket. This will take you less than 5 minutes!
During the installation process, make sure the top of the hater is sticking above the water. You should also watch out for the tank's water levels because if they are too low, the heater could get exposed. This should, however, be easy because the Fluval E200 has a clearly marked minimum waterline.
Sensors
The Fluval E200 comes with 2 types of sensors; an overheat sensor and a dry sensor. An overheat sensor's main aim is to perform emergency shutdowns. The dry sensor, on the other hand, keeps tabs on the water levels, and when the heater starts running out of the water, it turns it off the heater and then turns it on when the water levels are above the minimum waterline. These sensors are a very handy safety feature because, without them, the heaters could end up melting when they are exposed. This then creates a safety hazard and could even result in fires or burns.
Dimensions and Weight
The heater is relatively light and only weighs 1.01 pounds. It's also compact and measures 1.8 x 3.3 x 17 inches. The Fluval E200 package comes with 3 main items;
The heater.
Instruction guide.
Bracket.
The heater comes fully assembled and should be installed on the tank's back glass. If you, however, prefer installing it on the sidewall, the bracket allows you to attach it.
Warranty
A product's warranty has an intricate relationship with its quality. Think about it; if the manufacturers don't expect their product will last, then the warranty period will be low. On the other hand, a brand that's confident in its product quality offers a reasonable warranty. The Fluval E200 comes with a 5-year warranty which is highly impressive. This warranty covers workmanship or material defects under normal usage. It's also applicable on non-replacement parts, so if it breaks down, the manufacturer will replace or repair it for you free of charge. You should, however, note that the warranty doesn't cover heaters damaged due to tampering, negligence, or misuse.
Price
Compared to other models in the market, the Fluval E200 is slightly more expensive. This is, however, a small price to pay for all the features and benefits that it offers.
Heater Guard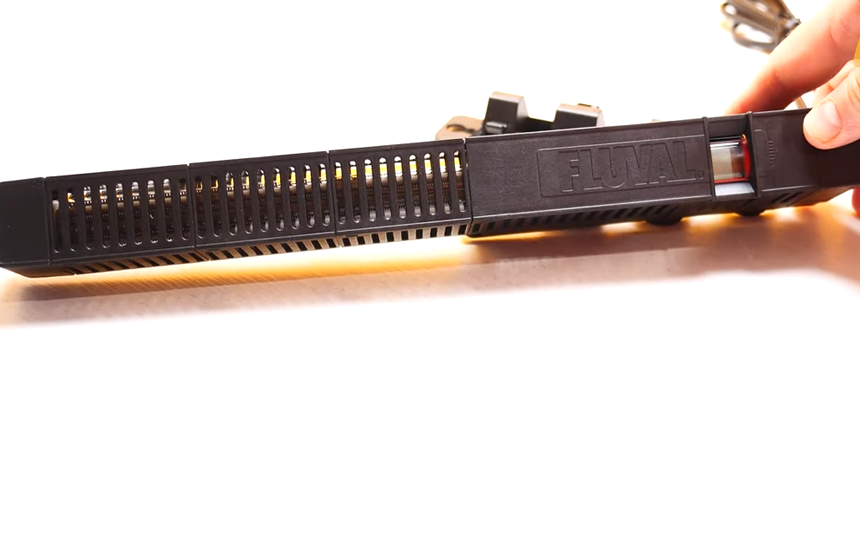 The best heaters should typically be unbreakable, and since the Fluval E200 is made from glass, the heater guard is meant to add an extra layer of perfection. It is sturdy and has smaller holes compared to most models in the market to ensure that if you have small fish, they won't pass through and get trapped.
Indicator Lights
These lights allow you to determine the current water temperatures at a glance. The indicators are as follows;
Green for standby mode.
Blue when the heating mode is active.
Red if the temperatures are above the set levels
If the temperature levels rise around 5.5°F more or less than the set parameters, the display will automatically start flashing to let you know.
Mounting Bracket
This allows you to clip the heater on and off with ease. For precise placement, you can even adjust it vertically.
PROS

CONS

Ability to maintain steady temperatures.
Easy to read temperature levels.
Highly durable.
Comes with a heater guard.
Multiple indicator lights.
Easy to install.

Relatively pricey.
Needs to be plugged off during water changes.
Other Heaters of the Series
| | | | |
| --- | --- | --- | --- |
|   | E50 | E100 | E300 |
| Watts | 50W | 100W | 300W |
| Aquarium capacity | 15 gal. | 30 gal. | 100 gal. |
| Dimensions | 2 x 1.125 x 9.75 in. | 2 x 1.125 x 11.75 in. | 2 x 1.125 x 14 in. |
| Weight | 0.68 lbs. | 0.9 lbs. | 1.06 lbs. |
| Warranty | 5 years | 5 years | 5 years |
Other popular heaters in the Fluval E Series include the Fluval E50, Fluval E100, and Fluval E300. These models have several similarities, including their quality construction. So, you can rest assured that whoever model you choose from the series will last you for a long time. All models also come with a 5-year warranty and come with an LCD display.
The main differences between the Fluval E200 and the above modes are based on wattage, aquarium capacity, dimensions, and weight. The model number corresponds with the wattage produced. For instance, the Fluval E200 has a wattage of 200, while the E50 produces 50 watts. The wattage determines the capacity of the aquarium that you should use it on, and the E50 can only be used on a 15-gallon tank; the E100 is suitable for a 30-gallon tank while the E300 has the highest water capacity, at 100 gallons.
All models in the series have the same length and width, but the height varies. This can be attributed to the fact that the heaters with a high aquarium capacity need to be longer so that they can fit. The E50 measures 9.75 in. tall, the E100 is 11.75 in. while the E300 is 14 in. These models also have a slight variation in height, with the E300 weighing the most at 1.06 pounds.
Overall, compared to the above models, the Fluval E200 is a great buy and is only exceeded in wattage and aquarium capacity by the E300. They, however, have almost similar features, and the most notable difference is the size of the aquarium tank that you can use them on.
Conclusion
We were really looking forward to conducting the Fluval E Series heater review, and we have to admit that we were not disappointed. These heaters fall on the higher end of the price spectrum, and we wanted to know what the hype was all about. Well, we quickly realized how impressive the features were. For instance, heaters have been known to get too hot and then give the fish burns, and this model came with a heater guard for an extra layer of protection. It also comes with an LCD display feature that allows you to keep tabs on current water temperatures with ease. We were particularly impressed by the indicator lights that automatically let you know the current model of the heater as well as the easy installation process.
References
1.
www.bbc.co.uk
Learn about ICT systems and usage for ICT GCSE and find out the integration of ICT devices and information systems.
2.
In Hot Water: Warming Waters are Stressing Fish and the Fishing Industry | Climate Central
Climate Central bridges the scientific community and the public, providing clear information to help people make sound decisions about the climate.