Christmas moss and Java moss are the most popular aquatic mosses among aquarium owners because they are the easiest to care for. They add a visually striking appeal to the tank. Most fish keepers find themselves torn between Christmas moss and Java moss. The two moss varieties have differences and similarities. Java moss is considered the easiest to care for as it can survive in all water conditions. It is suitable for aquariums with low light and less equipment.
On the other hand, the Christmas moss needs a lot of light and carbon dioxide to grow. It grows flat and slowly and will cover anything you attach it to. This article takes a closer look at the two mosses to help clear the air on the heated Christmas moss vs Java Moss debacle. Read on to see more differences and similarities in the growth, maintenance, and requirements of the two mosses.
Christmas Moss Overview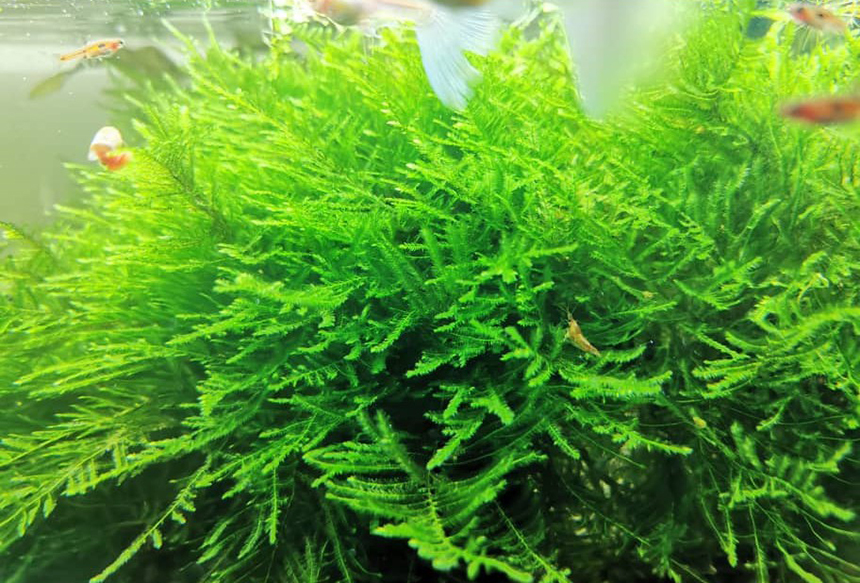 Christmas moss is native to Brazil but is rapidly gaining popularity worldwide. It gets its name from the triangular shape of its leaves that look like branches of a fir tree. Its leaves are oval or round in shape, and they grow at a right angle to the plant's stem. It is commonly used to create a wall or carpet in an aquarium and is a top preference for many because it removes nitrogen.
The Mainam Christmas moss is the most popular brand among aquarium owners. It comes in a cup, ready to plant with a 3-days guarantee. If the plant is dead within 3 days of delivery, you will get a replacement if you have a photo to prove it.
Water and temperatures
Christmas moss requires warm water with a temperature between 66 degrees F, and 78 degrees F. the pH of the water can range between 5.5 and 8.0. Experts Trusted Source It Is Hot in the Sun: Antarctic Mosses Have High Temperature Optima for Photosynthesis Despite Cold Climate The terrestrial flora of Antarctica's frozen continent is restricted to sparse ice-free areas and dominated by lichens and bryophytes. www.ncbi.nlm.nih.gov advise that temperatures above 72 degrees F and pH levels between 6 and 7.5 are the most ideal for the growth of Christmas moss.
Growth
Christmas moss grows fast and flat. It will grow faster if the water is warm, and since it grows flat, you can let it create a carpet on your aquarium's floor or allow it to cover the large pieces of driftwood and rocks in your fish tank. It only grows up to 4 inches in height, and you have to prune it occasionally to help it grow and survive.
Downsides
Algae is the main downside of Christmas moss, as it is with many other mosses. The moss could be home to a nest of algae if the water parameters are not well-balanced. You can use algae controlling chemicals or add algae-eating fish species like shrimp into the aquarium to control the issue.
Another downside is that Christmas moss requires frequent trimming. Failure to trim it can cause it to die. Whenever you see the leaves turning brown, you should trim them ASAP. You may notice the leaves turning brown immediately you plant the moss. Do not panic as it is only getting to adjust to the new environment. Changes in temperature and other water parameters could also cause the browning.
Java Moss Overview
Java Moss is one of the most popular mosses across the world. It originates from Southeast Asia and is a top preference for many because it is incredibly easy to grow. Compared to other mosses, it is quite hardy, and it will grow and survive in harsh water conditions that would kill many other plants. The moss is compatible with virtually all species of fish.
You have to attach Java moss to something in the aquarium. Otherwise, it will hold on to anything it finds, including tubing. This is why you have to be sure you want it in your aquarium. You can attach it to the décor and rocks in your fish tank. The moss doesn't have roots like other plants. Instead, it has rhizoids that do not absorb nutrients. It uses leaves and stems to absorb nutrients.
If you are in the market for Java moss and have no idea what to get, look up the Dwarf baby Tears Java moss from Greenpro store. They offer 100% DOA guarantee that the moss is algae, snail, pest and disease-free. It comes ready to plant, all you have to do is rinse to wash out any gel, then cut into small portions before planting.
Water and temperatures
As mentioned before, Java moss is pretty hardy and can survive in different water conditions. Although it can thrive in a wide range of pH and temperatures there are ideal water parameters that will make it flourish.
The perfect aquarium temperature for Java moss's growth and coloration is anything between 20 and 24 degrees C. A pH between 5.5 and 8.0 would and a water hardness of up to 20dGH would do.
Growth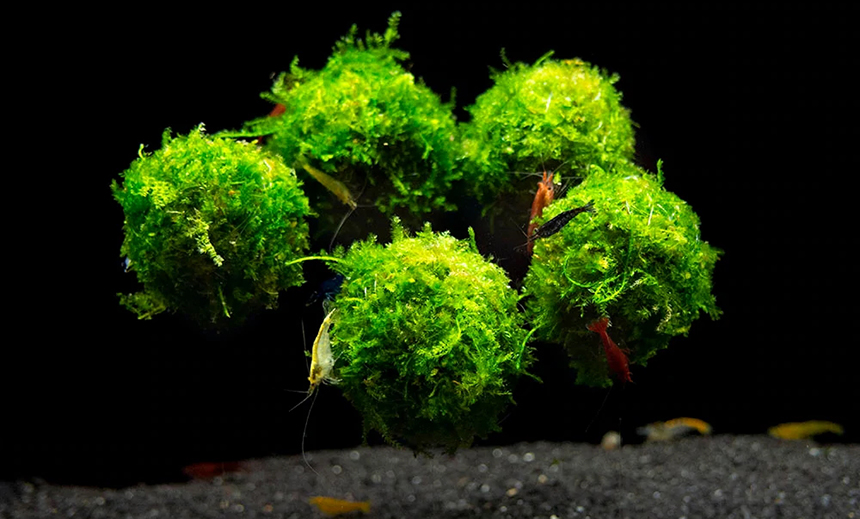 Java moss grows at a slow to medium rate. It doesn't require light or carbon dioxide to grow, but you can use carbon dioxide to stimulate its growth. It does well in freshwater and can even soften some harsh features in water tanks.
What's more, Java moss is low-maintenance. The most you can do to maintain it is trim it once in a while, but even if you just let it grow wild, it'll still look beautiful.
You can introduce Java moss into your fish tank by adding Java moss balls which are super-easy to manage because of their size. If you want it to grow on the walls of the fish tank, you can fold a net over it then secure with suction cups. With time, the moss will grow over the net then eventually hold to form a wall.
Once you have Java moss in place, you cannot move it as you will interfere with its growing process. You can use regular scissors to trim it, just be keen not to move it.
Downsides
Just like Christmas moss, Algae is the main problem with Java moss. If the water conditions are poor or imbalanced, your Java moss will become a host to a nest of Algae. Also, carbon dioxide attracts Algae so if you are using some to stimulate the growth of Java moss you are risking the growth of moss.
If you let the Algae grow deep into your Java moss, you will be left with no choice but to remove it all. When the Algae begins to get too much buy Algae eating shrimp or get algae controlling chemicals to stop it from spreading out of control.
Difference between Java Moss and Christmas Moss
Java Moss and Christmas moss have got few differences. They have a pretty similar appearance with dark green leaves and stringy patterns. Both of them are easy to care for, provide a lush environment and gorgeous scenery in the aquarium. Plus, they are both exceptional nitrate removers leaving you with a healthy aquarium environment which is great for beginners who are yet to buy an aquarium filter. Here are some of the differences between the two popular mosses;
Care
Java moss is relatively easier to care for compared to Christmas moss. All you have to do with Java moss is attach it where you want it to grow in the aquarium. Christmas moss requires some supervision to grow well. You have to trim it to keep it healthy. Failure to prune it can lead to its death.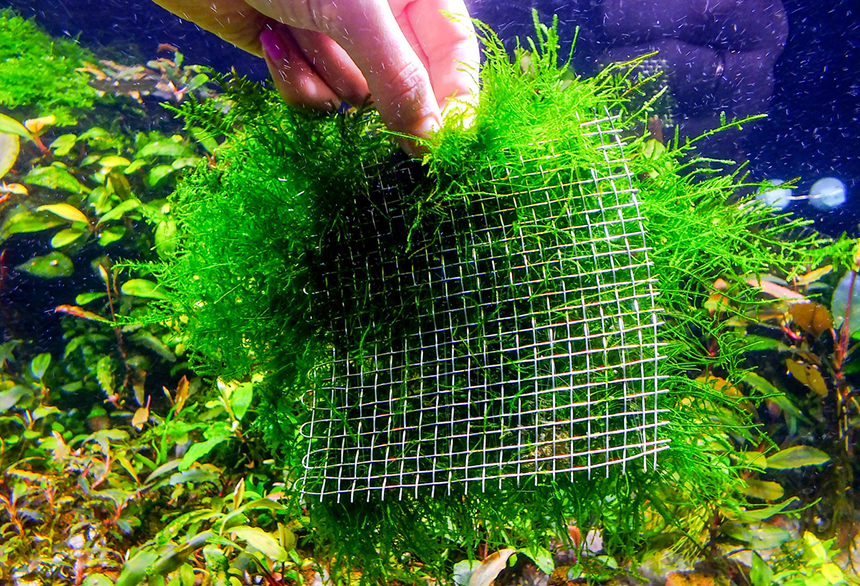 Java moss is the way to go if you are a beginner with a small tank as it is a bit more forgiving. It's hard to kill Java moss as it is hardy. You only have to keep in mind that it is an invasive plant and must be controlled to grow in the wanted places.
Price
The prices for both mosses don't come far apart from each other – you can purchase various quantities and quality mosses at around 5-20 dollars US.
Growing easiness
Java moss wins when it comes to growing easiness. It can survive in a wide range of conditions. It has a slow to medium growth rate and you can use carbon dioxide to stimulate its growth. Keep in mind that carbon dioxide increases the risk of algae. It grows very thick and dense once established.
Christmas moss, on the other hand, has a slower growth rate than Java moss. It is not as hardy as Java moss and it needs some supervision for healthy growth. Unlike Java moss, Christmas moss will take ages to grow without supplementation. You can use fertilizer and carbon dioxide to stimulate its growth. Also, it will grow faster in warm water.
Light requirements
Java moss can thrive in low-tech poorly lit aquariums but it becomes very leggy in low light conditions.
Also, the amount of light it gets determines its color, it can be light or dark green. The more light it receives, the more compact it grows.
Christmas moss requires more lighting than Java moss to thrive. Also, like Java moss, the more lighting it gets, the more compact it grows.
Water temperature
Java moss can survive in a wide range of water conditions. it can do well in water temperatures between 57 degrees F and 86 degrees F, but for the brightest color, the ideal temperature is anything between 70 and 75 degrees F. Unlike Java moss which can survive in cool waters, Christmas moss only does well in warmer water. The ideal temperature for its survival is anything between 66 and 78 degrees F.
Décor compatibility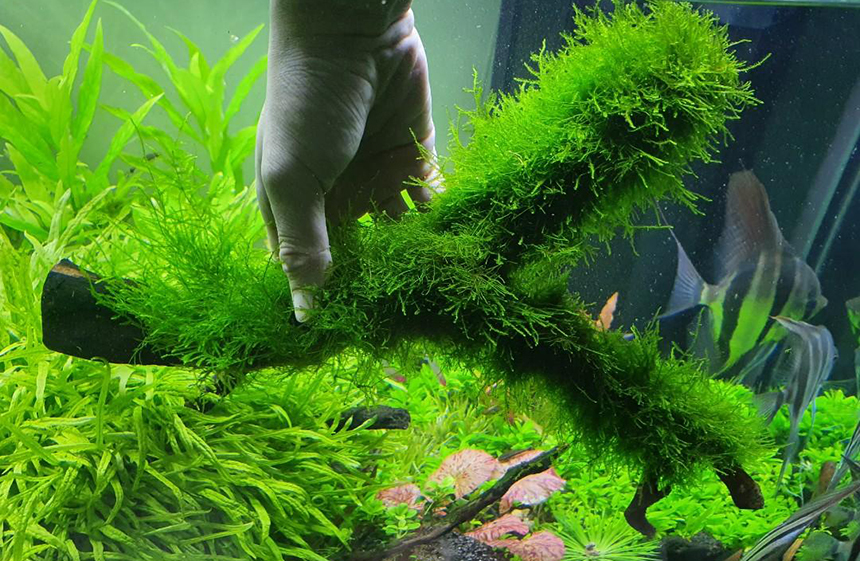 Christmas moss is the perfect option for covering rocks and driftwood to create a magnificent underwater jungle effect. It is ideal for carpeting the substrate in the aquarium as it grows flat. You can also leave it to float in the tank or settle where it chooses to.
As for Java moss, you can add them to the aquarium in the form of balls which are easier to manage or train it to grow on the walls of the aquarium with a net and suction cups.
Final Thoughts
The Christmas moss vs. Java moss debacle is common among aquascapers. There aren't many differences between the two mosses, in fact, they are pretty similar in appearance and both are visually striking additions to the aquarium. If you are a beginner aquarium owner with just a small fish tank, go for Java moss because of its hardy nature that is much more forgiving. It's almost impossible to kill a Java moss and even getting rid of it after it is established is quite a hassle.
If you are a seasoned aquarist with a well-lit fish tank and great interest in aquascaping Trusted Source What is Aquascaping? Learning aquascaping is not difficult. Like any other passion, it takes time, dedication and extensive research. Start your aquascaping journey here. aquascapinglove.com , you can give Christmas moss a shot. Although it needs a little maintenance, Christmas moss is the best easy to care for moss that you can get for creating a moss-wall or moss-carpet in your aquarium.