It's hard not to fall in love with mystery snails. These snails add color, grace, movement, fun, and a sense of calmness to any freshwater aquarium. So, it's very understandable if you wish to breed these non-aggressive creatures. Wishing to breed them is the easy part; breeding them is a whole new ball game.
If you don't know how to proceed with mystery snail breeding, help is here. Breeding these species of snails entails knowing a lot of things about them, including how often they mate, the right conditions for breeding, and more. Also, you'll need to learn the necessary factors to consider during the mating process; from breeding group to temperature settings, water quantity, etc.
In this article, we'll tell you all about what it takes to breed mystery snails and how to ensure a hitch-free and fruitful process. Let's get right to the task ahead!
How Often Do Mystery Snails Mate?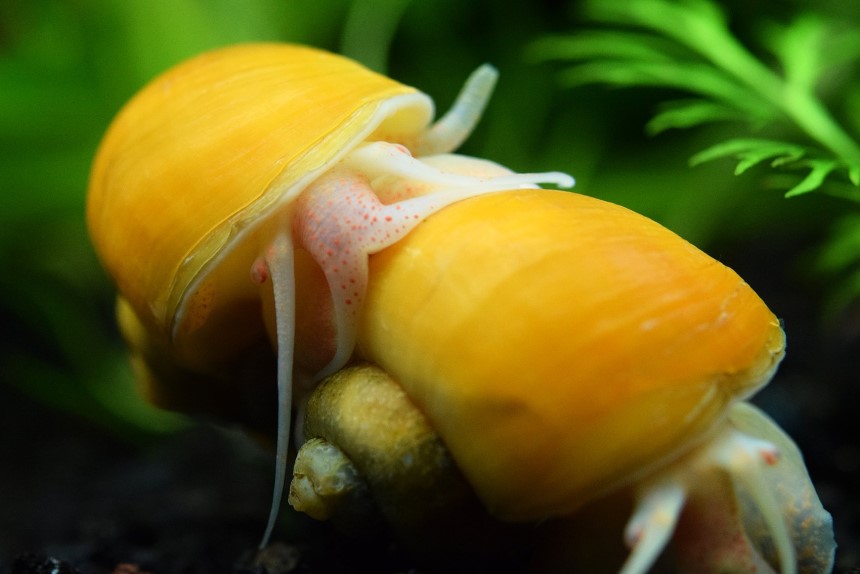 You can't learn how to breed mystery snails without understanding how often mystery snails mate. So, here comes the all-important question; how often do mystery snails mate? Find out below:
Conditions
Earlier, we hinted about creating the right conditions for mystery snails to breed. Like other species of snails and animals, generally, mystery snails need the most comfortable environment for mating and breeding. For example, you need to get the temperature levels right or you risk an unfruitful breeding process.
Moreover, you should be able to estimate the right time for your mystery snails to start breeding. While it's impossible to pinpoint when these creatures become sexually mature, most of them can breed by the time they attain a quarter of their final size—usually the size of a ping pong ball.
Specifics
Frankly, it's a bit difficult to provide a precise answer but we do know male mystery snails tend to mate quite often. Specifically, adult snails can mate multiple times per day (and it could go on for weeks) because they are quite fond of mating. You might be surprised that even males attempt to mount other males.
If your snails seem to mate too frequently, you may decide to separate them. Over mating can hurt the females (we'll elaborate later in this article).
Mystery Snails Mating Tips
As we mentioned before, it's absolutely necessary to take the right steps when breeding mystery snails. As promised, we'll help you learn those steps. Below are some vital mystery snails mating tips:
Color mixing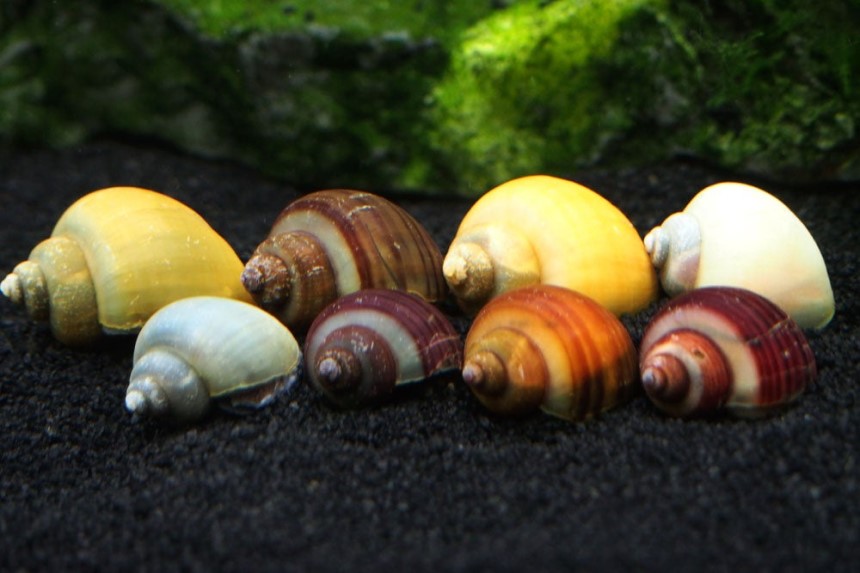 The first thing you need to do when breeding mystery snails is to decide on your preferred color(s). When it comes to mystery snail breeding colors, some people want a single color while others want mixed colors. It's all about preference here. If you want to breed mystery snails of a specific color, then both parents must be of the same color.
But, if you've got multiple colors and you allow them to freely breed, you may be in for all kinds of surprises. However, this isn't always straightforward. For example, you may get two golden mystery snails and not end up with golden babies. You may be wondering how that can happen. Golden mystery snail breeding is a bit tricky. Both parents can carry the genetics of two or more generations with different color lineages.
Although you can (likely) get all golden babies by breeding two golden snails, you can't always guarantee that would be the case. A mystery snail breeding chart could help you understand the color mixing process better.
Breeding group
While  a study Trusted Source Raising Snails Heliciculture is the process of farming or raising snails. Snail farming on a large-scale basis requires a considerable investment in time, equipment, and resources. Prospective snail farmers should carefully consider these factors, especially if their goal is to supply large quantities to commercial businesses. Anyone who wishes to raise snails should expect to experiment until he finds what works best in his specific situation. Expect a few problems. naldc.nal.usda.gov  by the Alternative Farming Systems Information Center (AFSIC) notes that most snails are hermaphrodites, mystery snails are a rarity; they're not hermaphrodites. They will only have male or female reproductive organs.
So, you'll need a male and female to reproduce. That means you'll have to create a breeding group that includes male and female snails. But that's not always an easy thing to do because of the difficulty with sexing these snails.
You can look under the hood of their shell to identify their reproductive organs but you may not have any luck with that. Even experienced breeders struggle with this method. Instead of going through this trouble, you can put a group of 8 or 10 adults together in your preferred color(s). The larger the number, the more likelihood of getting some males and females in the breeding group.
If you're having trouble getting fascinating and healthy snails, the Purple Mystery Snails could be a great buy. Sporting a beautiful purple shell, these snails are safe to keep with any non-aggressive fish.

Temperature settings
Another important part of proper mystery snail breeding is getting the temperature settings right. The right temperature settings are central to setting the right breeding mood. Of course, when you set the right breeding mood, you set yourself up for success.
According to the Ecological Research Series of the United States Environmental Protection Agency, warm conditions stimulate Trusted Source Document Display | NEPIS | US EPA Sensitivity of aquatic mollusks to temperature is surprisingly narrow. nepis.epa.gov  breeding. So, if your tank's water temperature isn't already above 73° F, you'll need to raise it, but gradually. Preferably, increase the temp 1° F every 2 days until it reaches 73-78° F—the ideal temp range.
That shouldn't be a problem since you can call on the best aquarium thermometer or the best heater controller to help out. These instruments are designed to determine the tank's water temperature and help you control the heat respectively. Even with the right 10-gallon fish tank heater, you can make things work.
Water quality and quantity
You can't ignore water quality and breed mystery snails successfully. Bad water naturally stresses these snails and ultimately discourages breeding. So, you should always try to keep the water quality great.
Besides water quality, water quantity needs to be heavily considered. Before proceeding, we must know that mystery snails lay/deposit their eggs above the waterline. Therefore, we advise that you lower your tank's waterline to help your snails have enough space to lay their clutch safely. If the clutch is left underwater, the developing embryos will be drowned.
Mating time
Now, let's talk about mating time. First of all, you must watch for breeding. Mystery male snails exhibit breeding behavior by mounting other snails, not necessarily females as we hinted at earlier. However, the length of time they spend mounting can suggest whether they're on females or not. Naturally, male snails will spend a much longer time on female snails.
Specifically, mating time can span 1 to 6 hours at a time. Male mystery snails may repeat their actions multiple times daily or weekly. You must be on the lookout for frequent breeding. Why? Male snails are known to overbreed females. Over mating stresses female snails and can kill them. So, it's best to avoid such a situation.
If you find your male mounting the female multiple times daily, you may need to separate them for days or even weeks while the female gets a breather.
Eggs laying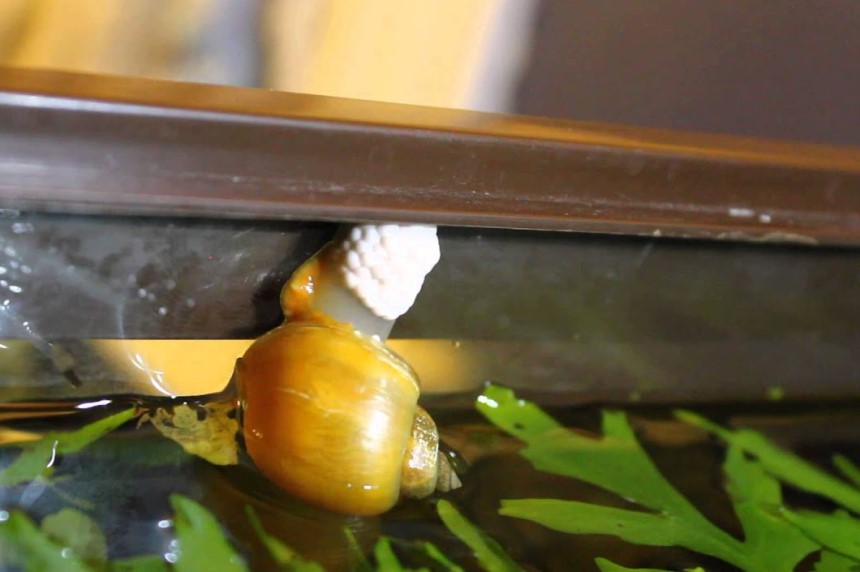 As we mentioned earlier, mystery snails need some conditions to lay eggs. For example, they will only lay eggs above the tank's waterline. When it's time for female mystery snails to lay eggs, they climb to the water surface and deposit a clutch of eggs in a cocoon.
If your tank's water level is just below the lid, the female mystery snail won't be able to access a dry area above the waterline to lay eggs. Such a condition will likely force a female snail to not lay eggs. However, she can still lay eggs if she can find a dry area unaffected by water. Such an area could be on the filter or under the hood.
So, you should be on the lookout for an egg clutch before it hatches. Thankfully, the eggs don't hatch until 2-3 weeks, leaving you with plenty of time to find and remove them.
Clutch care
After spotting the clutch, you must protect and care for it. You can leave it in its original place if it's getting enough warmth and humidity. However, you'll have to remove the clutch and put it in a safe place if it's exposed to predators. You should wait 1-2 days after it's laid before moving it.
A safe space for your clutch should be away from other pets, tank predators, children, and an area where's it's safe from being knocked into water. Furthermore, your mystery snail eggs should stay in a warm, damp environment because it's good for their development.
On top of that, ensure that you monitor the clutch regularly to determine whether the environment remains right for it or not.
Finally, you need to find the right breeder box for the right level of clutch care. According to most reviews, the POPETPOP Breeder Box is designed to increase the survival rate of bred snails. Constructed with a plastic frame and soft polyester, it's pretty reliable.

Final Thoughts
Without question, mystery snails are fun to breed and it's normal to feel the urge to have more of them. But you have to be ready to do a good job of breeding them or you won't get the right results. Firstly, you need to get the tank's water temp right. If you're wondering how to get mystery snails to breed, you may just need to raise the water temp.
On top of that, the water quality needs to be good. And the water quantity should be kept at the right level for female mystery snails to lay their eggs. Furthermore, you need to provide the clutch with adequate care. There's nothing mysterious about mystery snail breeding, you only need to do the right things to be successful. Luckily for you, this article contains all you need to do.